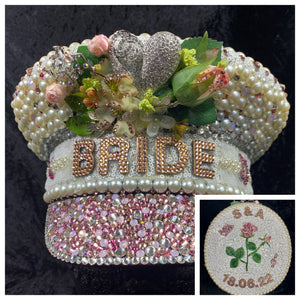 The Rose (Commission Only)
This hat incorporates flowers with a pink and cream colour scheme to match the June wedding theme. This commission was for a very special West End leading lady, so I've also created Swarovski covered motif's representing the actors tragedy and comedy symbol, as well as various music notes around the hat's band. I also wanted to bring an extra special look to the crown, so designed a 3d rose, again encrusted in Swarovski so it bling's like crazy in the sunshine. As with all my hats, I have used copious amounts of Swarovski crystals all over and have used beautiful music notes brooch and single heart on the front of the hat. 
If you wish to buy your own exclusive design for your hen do, please reach out to me via the contact page or click purchase, and we can liaise from there to create your very own classic hat.