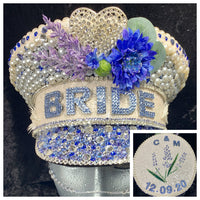 Commission: Lavender
Special bride hen party commission. This hat features Swarovski crystals and has been designed to match the brides colour scheme (lavender & corn flowers). Please contact me if you'd like to discuss a commission in your colour scheme.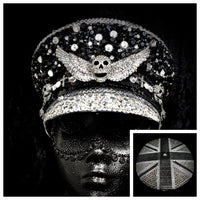 Commission: Gothic Britannia
Gothic Britannia featured at jeweller to the star's, Butler & Wilson's, 50th Birthday celebrations.
All commissions welcome, please email me to discuss your event and specific needs.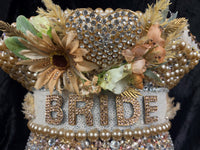 Commission: Peaches & Cream
Reflecting the brides chosen colour scheme - Peaches & Cream, as well as incorporating Pampas Grass , which is a running theme throughout the May wedding. The bride works in Theatre and the groom is in the Police, so I've created motif's covering both professions in Swarovski Crystals as well as designed a 3d sweet pea flower for the crown.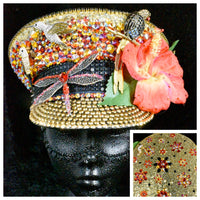 Commission: Rain Forest
Special commission for a San Francisco charity event. This hat features numerous animal brooches from jeweller to the stars, Butler & Wilson and Swarovski crystals to gain maximum bling under the lights. Please contact me to discuss your special event theme and i'll be happy to design an exclusive one of a kind hat for you. 
Special Commissions

A small selection of unique hats for unique people
Special Commissions
A small selection of unique hats for unique people